Getting feedback from your customers is an important aspect of business growth. With online tools, it has become really easy to quickly create an online survey and get feedback from your customers. With our list of best survey tools in 2022, you can easily decide on tools that are right for you.
To be successful in a business, one has to stay on top of their game and find new ways to improve their business offerings. Understanding what your customers need will enable you to provide the best product offering. At this point, you need to design your first survey to get feedback from your clients and you are probably asking yourself what is the best tool for me.
We are constantly updating the list to contain more information and more survey tools to help you make a better choice in deciding what is good for you.
TypeForm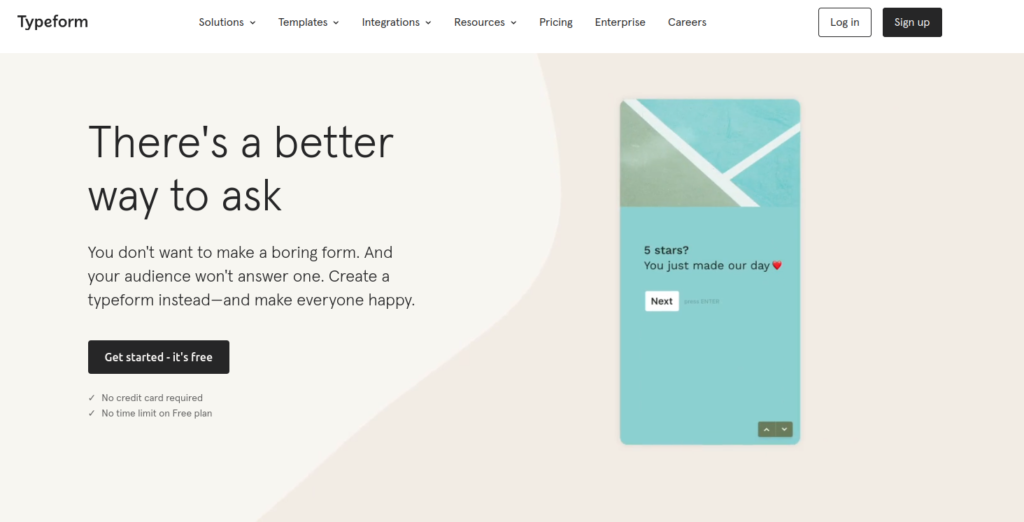 Typeform is one of the most popular platforms for creating online surveys. You can create forms, quizzes, surveys. It allows you to easily and quickly create forms, quizzes using an easy-to-use interface. Unlike other such software, using Typeform is actually enjoyable which of course goes a long way when it comes to gathering data as the software has advanced completion rates and data quality than numerous others.
Most survey tools focus on complications of their questionnaire, or the amount of data that can be extracted, Typeform has a completely different approach.
Its main focus is user interaction with the application. For Typeform, the best way to get a better result is to engage the end-user with a better user experience and through that get better responses. The Typeform methodology appears to work well for both researchers and survey takers as there is a high completion rate which is above the average considering industry standards.
Their packages start with the Essentials package, which only offers a basic range of features. Upgrading to the Professional plan will unlock a lot more features.
Each of these is restricted to a single user, though Enterprise deals are available.
Key features
Integrations
Automatic question type recommendations
Responsive on all devices
Excellent customer service
Scalable pricing
Pricing
Free (Access to 3 typeforms, 10 questions/typeform, 100 responses/ month)
Essentials ($35 per month, $30 if payment is yearly)
Professional ($50 per month. $35 if payment is yearly )
Premium ($70 per month, $59 if payment is yearly)
For further information, visit their website.
SoGoSurvey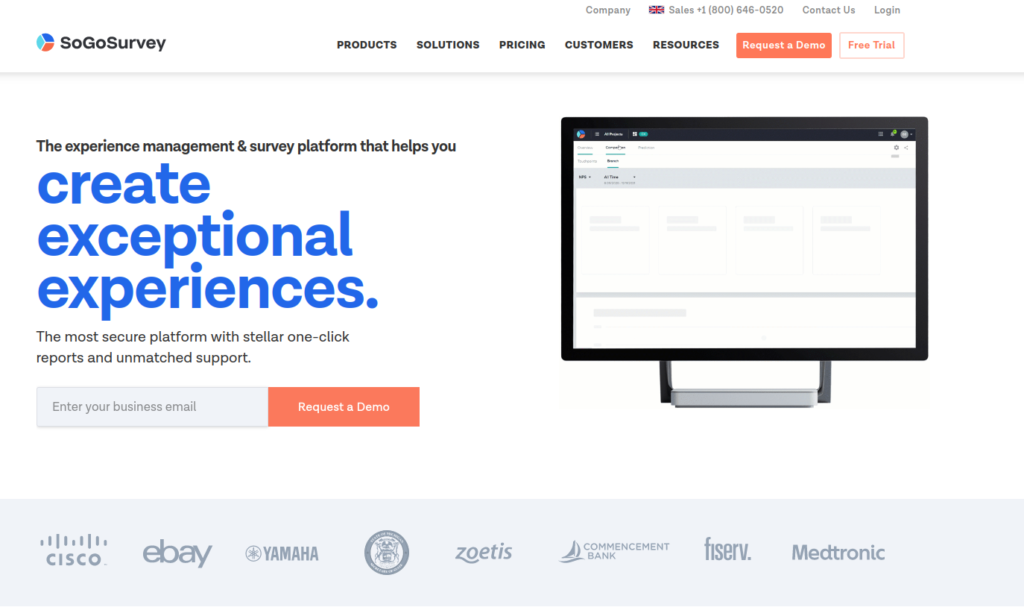 SoGoSurvey falls as one of the best for its simplicity and value. They provide a perfect solution, which offers to provide designs that can be distributed across all platforms. Before SoGoSurvey dives deeper into producing analytics, the responses will have already been in front of the researcher, ready to be managed.
SoGoSurvey still offers their support to all whether paying or non-paying customers which are important for people who are just getting into creating their first surveys. Whether a researcher is a free or paid user, they will still be entitled to customer service to answer their queries and issues.
You can quickly set up many different types of surveys, quizzes, and questionnaires that will help you get feedback to improve your business. Their survey templates also allow you to customize your survey to your required needs.
Key features
Integration with CRM
Easily distribute survey via several channels
Unlimited surveys and questions
24 slot for unique question formats
Pricing
Free (Basic, Student, Academic, Non-profit)
Personal Plans
Plus plan ($25 per month)
Pro plan ($199 per month, $66 per month if payment is yearly)
Premium plan($299 per month, $ 99 per month if payment is yearly)
Enterprise plan (Pricing on request)
Survey Monkey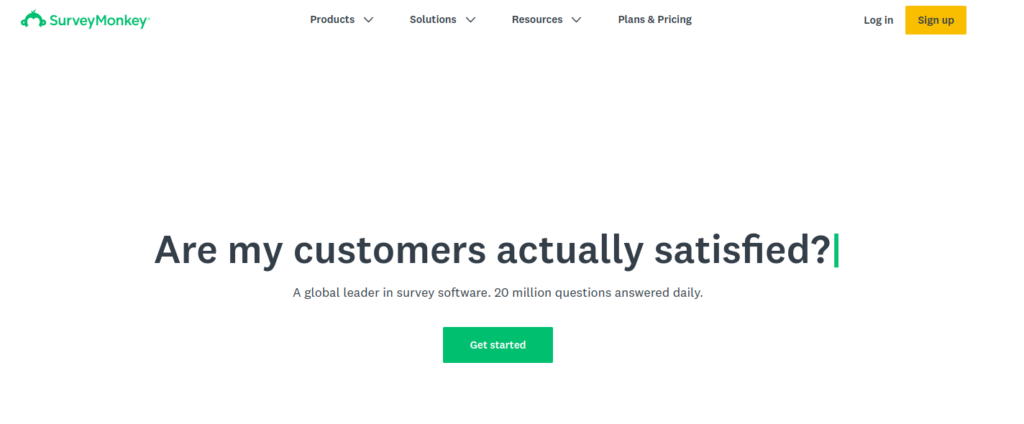 SurveyMonkey is one of the most popular solutions counting with more than 40 million users. It is this popular because it allows you to create a very detailed questionnaire. Their services also come with data analysis tools that will extract the responses and provide you with the answers you need.
The ease to use SurveyMonkey is what makes researchers like the software. You don't need any previous experience or skills to create surveys, distribute them to the right people, and get insight from data all in one place. SurveyMonkey is perfect for creating employee surveys, event planning, market research. SurveyMonkey is one of the best survey tools ever created with all the features and customization which are possible with the application.
There are a lot of offerings in its premium plans. The free version is great but has limited services like questions, question types, and respondents.
Survey Monkey also offers a useful feature that goes along with other qualities like data encryption for heightened security and other management tools.
Key features
Easily create forms and quizzes from library of professional written questions
A lot of ready Integration
Survey scoring
Secure sharing
White labeling
Prices
Basic (free access to 10 questions, 3 collectors and 40 responses per survey)
Standard Monthly ($39 per month)
Advantage Annual ($38 per month billed annually)
Premier Annual ($99 per month billed annually)
Business Plan (Team Advantage for $25 monthly per user billed annually)
Business Plan (Team Premier for $75 monthly per user billed annually)
Enterprise (Price on request)
Zonka Feedback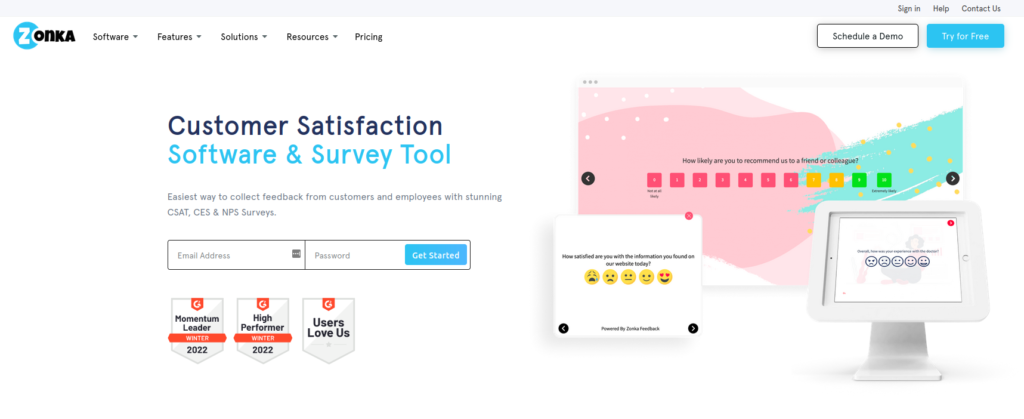 Zonka feedback is a survey platform with a beautiful design and fantastic user experience. Its main goal is to make survey taking and creation as easy as possible. You can easily create surveys from their templates and send them out using different channels. With numerous channels to distribute your survey, the ease at which you can get reports in real-time makes Zonka feedback suitable for Enterprises.
With a new survey builder, it becomes easier to create, customize, and personalize your surveys. Zonka feedback is a fun and effective solution for your business problems. It's a well-designed app that allows you to get a better look at what your customers think and use that information to step your game up. The app has a fantastic design with integrated mobile-friendly features and impressive real-time analytics. All of these features come together to allow you to build an engaging survey everyone likes doing in a matter of minutes.
Key features
Offline surveys and kiosks
Real time reports and analytics
Integrations
Email/sms surveys
Real time responses
Pricing
Free for 15 days
Professional ($79 per month billed yearly)
Growth ($169 per month billed yearly)
Enterprise ($429 per month billed yearly)
Custom (Contact for personalized quote)
They provide some more add-ons in case their plans do not fully meet your needs. Check out their web page for more information.
Zoho Survey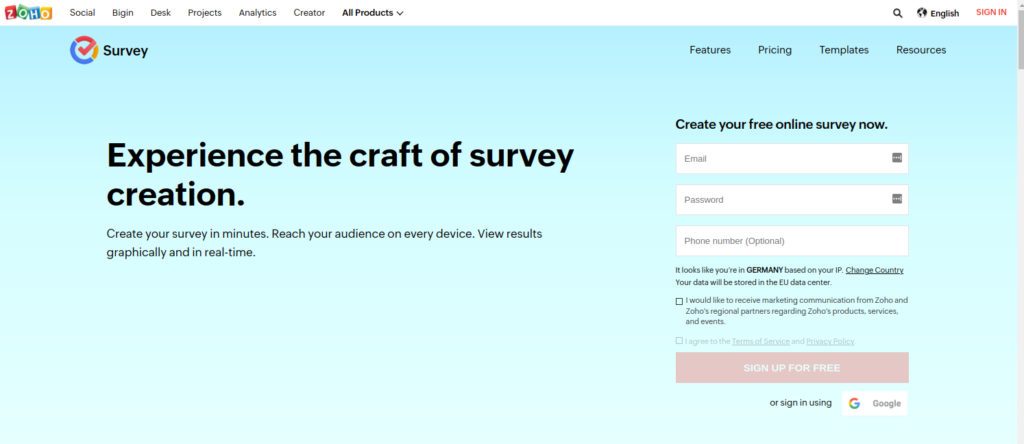 Zoho Survey is the perfect survey application for middle-sized companies. It's an excellent choice for finding out what your customers are saying about your business, as it is responsive on all devices. Zoho Survey allows for a lot of customizable options, which you can use to create unique surveys and forms. It is possible to add personalized themes to make your brand and company stand out.
With Zoho Surveys, you can quickly and easily send surveys and results to everyone on your list via email. Get visual results in the form of graphs, which helps you better understand what your customers want.
check out their website for more information,
Key features
Integration with other Zoho tools
Drag-and-drop questions
200+ templates
Custom variables
In-mail survey
Personalize your survey
Pricing
Free (10 questions per survey, 100 responses per survey)
Plus ($29 per month, $20 per month if payment is yearly)
Pro ($39 per month, $25 per month if payment is yearly)
Enterprise ($89 per month, $60 per month if payment is yearly)
What about a self hosted, on-premise Survey Application?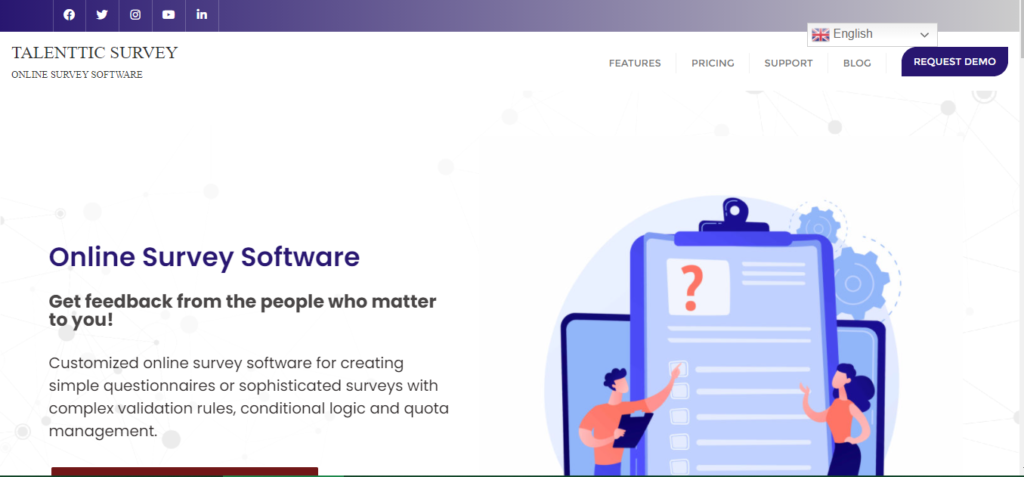 Talenttic Survey Software is a customizable online survey tool for creating high-quality surveys or questionnaires. Users of this tool can easily develop intuitive, powerful online questionnaires and surveys that can be used by anyone from small organizations to major corporations. Respondents can easily navigate the survey interface on their own. Users can design and distribute online surveys, gather responses, generate statistics, and export the results using Talenttic Survey.
When it comes to customer surveys, Talenttic Survey is a perfect solution for expert market research. It also provides universities and research institutes with all the necessary tools they need to carry out comprehensive research, implement experimental designs, or simply conduct basic surveys, all with a limitless number of users.
Some of its key features include a self-hosted installation in your chosen location, n unlimited number of surveys and users, SSL encryption for your data security, custom template design/branding with own logo and color, up to 300 GB of upload storage, option to use own domain and subdomains, 30+ question types, custom question types, 80+ languages for administration and surveys, multilingual surveys, quick translation, and even google translate support. and many more.
Talenttic Survey is suitable for conducting online surveys of any kind, scale, or complexity. This software with its inbuilt template editor has you covered whether you're putting together a simple questionnaire or sophisticated surveys with complex validation rules, branching logic, and quota management.
Key features
Self hosted at your preferred location around the world
Multilingual survey in more than 100 languages
We help you all the way from creating your survey to distribution and collecting results
24/7 customer service
Fully customizable to fit your organization
Fully GDPR Compliant
Good for users with large survey needs as there is no limitation in the number of responses you can collect. Collect as much response as needed and save huge on your survey needs.