Online survey tools, when incorporated into your website or application, make it a lot easier to improve customers' engagement and collect feedback from your clients. You can ask your customers questions via online surveys to learn what they like and hate about what you're selling.
When you evaluate the responses to these survey questions, you may see areas in your business that need improvements and which features or benefits you should emphasize in your marketing.
Keep in mind that regardless of which online survey tool or software you choose, it should provide certain features like branching logic, data security, and the ability to export collected data.
Read more on the key features to look out for when choosing an online survey tool.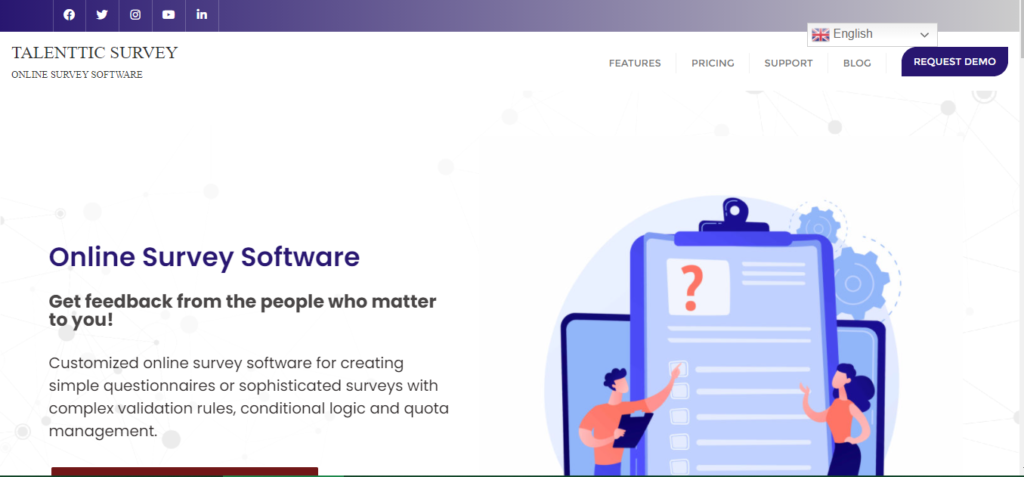 Talenttic Survey Software is a customizable online survey tool for creating high-quality surveys or questionnaires. Users of this tool can easily develop intuitive, powerful online questionnaires and surveys that can be used by anyone from small organizations to major corporations. Respondents can easily navigate the survey interface on their own. Users can design and distribute online surveys, gather responses, generate statistics, and export the results using Talenttic Survey.
When it comes to customer surveys, Talenttic Survey is a perfect solution for expert market research. It also provides universities and research institutes with all the necessary tools they need to carry out comprehensive research, implement experimental designs, or simply conduct basic surveys, all with a limitless number of users.
Some of its key features include a self-hosted installation in your chosen location, n unlimited number of surveys and users, SSL encryption for your data security, custom template design/branding with own logo and color, up to 300 GB of upload storage, option to use own domain and subdomains, 30+ question types, custom question types, 80+ languages for administration and surveys, multilingual surveys, quick translation, and even google translate support. and many more.
Talenttic Survey is suitable for conducting online surveys of any kind, scale, or complexity. This software with its inbuilt template editor has you covered whether you're putting together a simple questionnaire or sophisticated surveys with complex validation rules, branching logic, and quota management.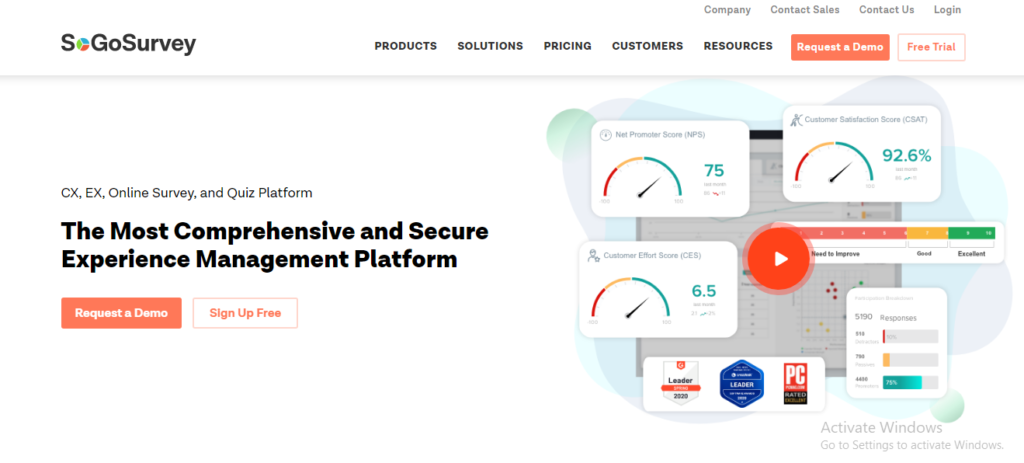 SoGoSurvey is the first survey tool on the list and is a powerful program known for creating great surveys with just a few clicks. You can share and download surveys that are created by the system, which are easy to understand. The solution is highly intuitive, hence, no need for you to have extensive computer knowledge. Using the system, you get to start strongly and create surveys in no time at all. This is because the platform has pre-created templates. All you have to do is copy them onto your survey and the system does the rest.
SoGoSurvey is imbued with around 600 functionalities that help you come up with great surveys every single time. Working with questions is easy. Add or delete questionnaire items based on what you need. Heck, you can even change the language of your questionnaire depending on your target audience. What's even better is that it gives you the ability to hide particular questions, which can only be viewed as needed.
Lastly, SoGoSurvey offers different pricing plans depending on your needs. Various plans are available depending on which features and which tool you need among its four products: Survey Tool, Quiz Tool, Customer Experience, and Employee Experience.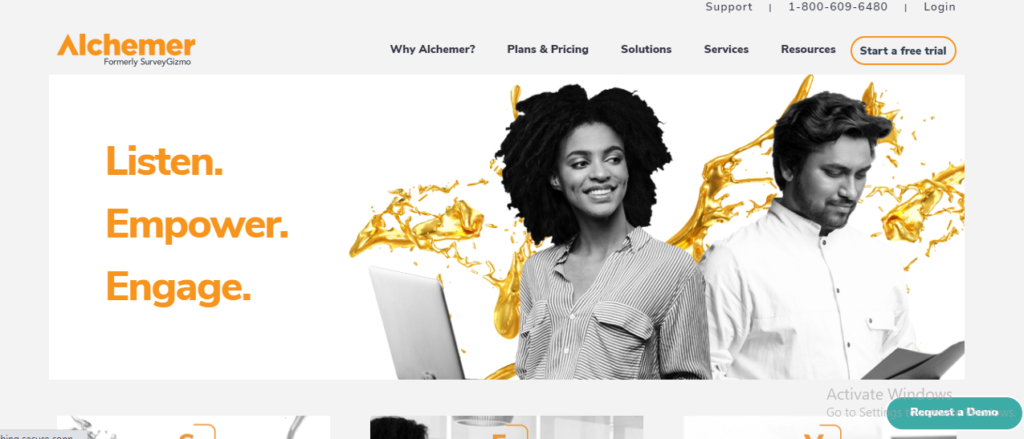 Alchemer is the second-best survey app featured in this category. In a fashion similar to SurveyMonkey, Gizmo helps businesses and market researchers conduct several types of surveys, organize quizzes and polls, and gather information via pre-made questionnaires. Alchemer helps conduct academic research in the educational environment, but you can use it to target all audiences as the interface is fully customizable. Foremost, consider this system to make your surveys more interesting. Flexible templates and reports are the strongest sides of the system, so make sure you use all configuration power that is given to you.
Next, Alchemer allows you to integrate your questionnaires with websites and leading digital and social media platforms, expand reach, and gather data from audiences you didn't have contact with before. Once all information is in the system, Alchemer helps analyze it, and export reports in desired formats and locations.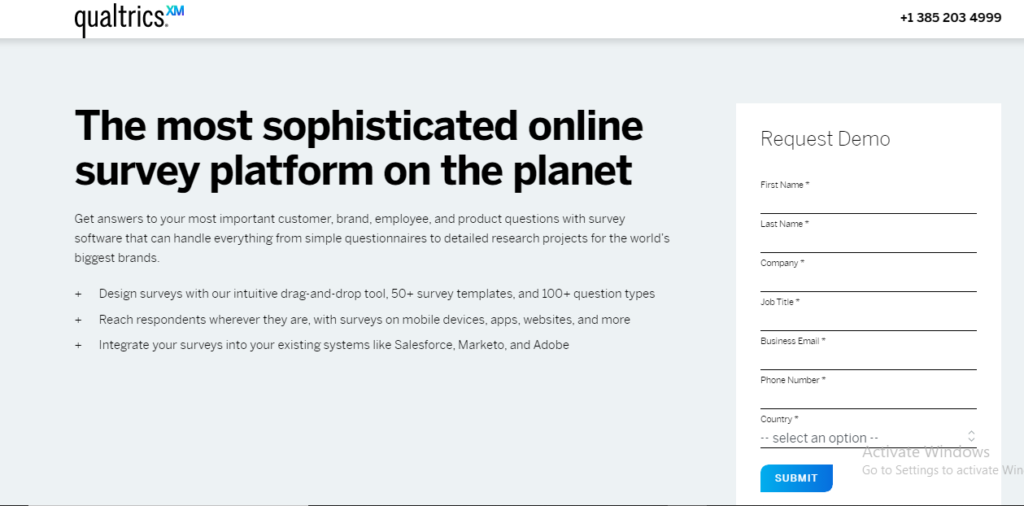 Qualtrics Research Core a market research solution used by many brands and educational institutions across the world. It is also known for being the first to use Artificial Intelligence (AI) in analyzing survey info to forecast market trends. The software uses a set of smart features termed Qualtrics IQ and is powered by AI and machine learning to make advanced research simpler for users.
With Qualtrics Research Core, you can easily perform tasks such as analyzing your advertising campaigns, testing products, conducting academic research, benchmarking your firm against competitors, tracking consumer behavior, and more. This program provides a range of innovative tools that you can use to create, test, and adapt surveys instantly, and get operable data quickly.
Another advantage is you can depend on their highly qualified support professionals for 24/7 help via phone, chat, or email. This ensures you'll not experience long downtimes if something goes awry. In addition, Qualtrics Research Core provides in-house implementation and also partners with industry-specific enterprises such as Kantar, JD-Power, and Walker.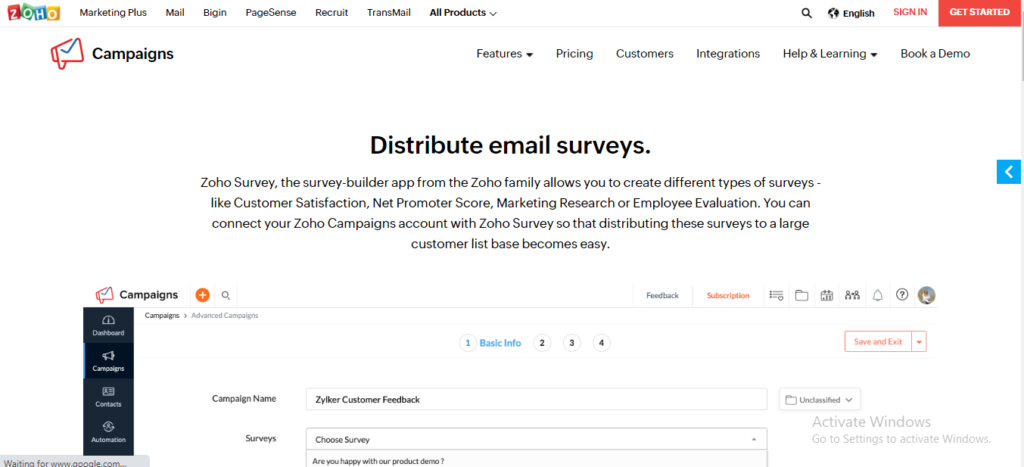 Zoho Survey is a straightforward online survey application that can be used for basic survey requirements. It offers a range of pre-built as well as custom templates that prove useful for organizations in conducting surveys in business areas such as marketing research, marketing, human resources, education, consumer satisfaction, and more.
Zoho Survey presents a variety of interactive charts and built-in reports to enable you to analyze and understand survey results and derive operable insights. You can easily export survey data in popular formats such as .xls or .cvs for conventional spreadsheet viewing. Finally, the software integrates seamlessly with other Zoho solutions and with business systems such as Google Sheets, Google Apps, and MailChimp.
Zoho Survey makes survey creation and administration easy and painless. The system comes loaded with pre-built survey templates so you can create and conduct online surveys within minutes. You also have the option to produce a more custom template for more specific audiences and results. With Zoho Survey, you can extend your reach to your audience through any device, and check out the results in detailed graphics as they come in.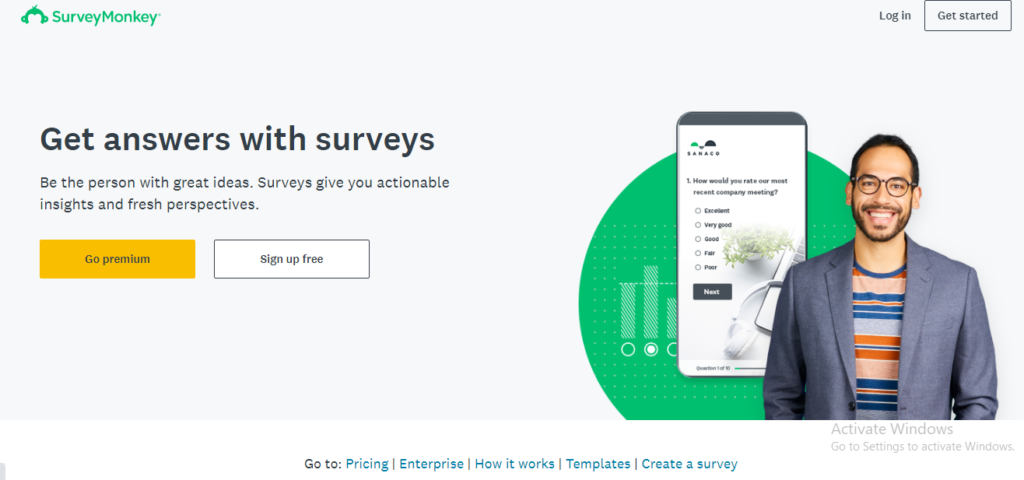 SurveyMonkey is an undisputed leader in this category, the most popular survey app to be found on the market, and the one that provides just enough configuration possibilities to be considered a 'one-stop shop' for all businesses and individuals.
How can SurveyMonkey benefit your business? In short, there is no online survey project you can't pull off with this app. It is suitable for corporate and market research environments, used mostly for organizing polls and collecting end-user or employee feedback. So far, SurveyMonkey may not sound that different from the rest of the survey systems, but where it really shines is competitive analysis. Indeed, SurveyMonkey doesn't only gather and organize data, but it helps you understand what that data means, and how it's useful to improve your services.
SurveyMonkey creates, collects, and analyzes data from millions of respondents, all on a single platform. It is equipped with a powerful question bank of inbuilt questions regarding the different types such as customer satisfaction, employee feedback, demographics, community, healthcare, market research, human resources, events, political and non-profit, and this is not where the list ends. At the same time, the system processes and analyzes data, using at the same time an array of collaborative functionalities for the team to work together. The best part about it is security, as TRUSTe, Norton validates all data and HIPAA features.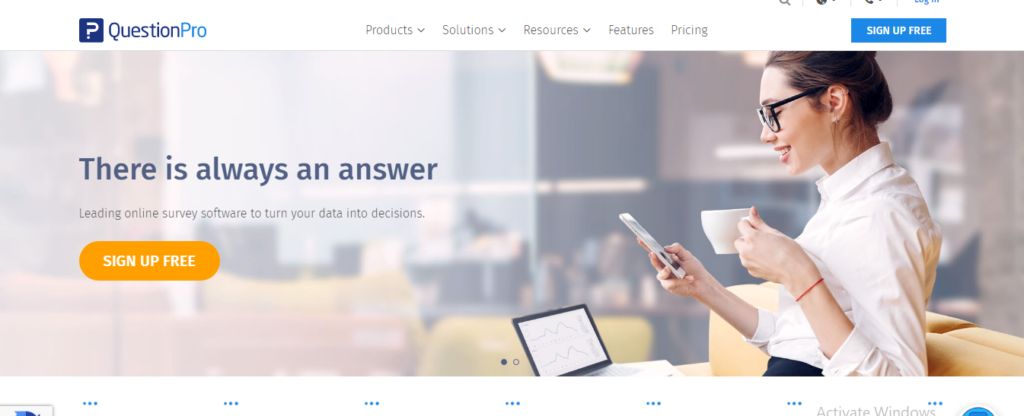 QuestionPro is one of users' most popular survey apps. Created predominantly for corporate environments, the system helps businesses around the world gather actionable intelligence and improve their business decisions. QuestionPro is one of the richest survey sites on the market, as it offers 30 question types, an array of beautiful templates, integrated pop-ups, and the possibility to embed surveys on personal websites and social media.
How does QuestionPro stand out from its competition? The same as in the Alchemer case, QuestionPro offers advanced personalization that allows users to add headers and footers, company logos, and branding HTML content. To make matters even better, the users get to follow the progress of the survey and understand the percentage of questions that still need to be answered. All QuestionPro surveys are responsive on mobile devices, and a ready respondent database is there to help starters hit off. Pricing is also attractive, as there is a free basic plan and an opportunity to purchase a single payment license.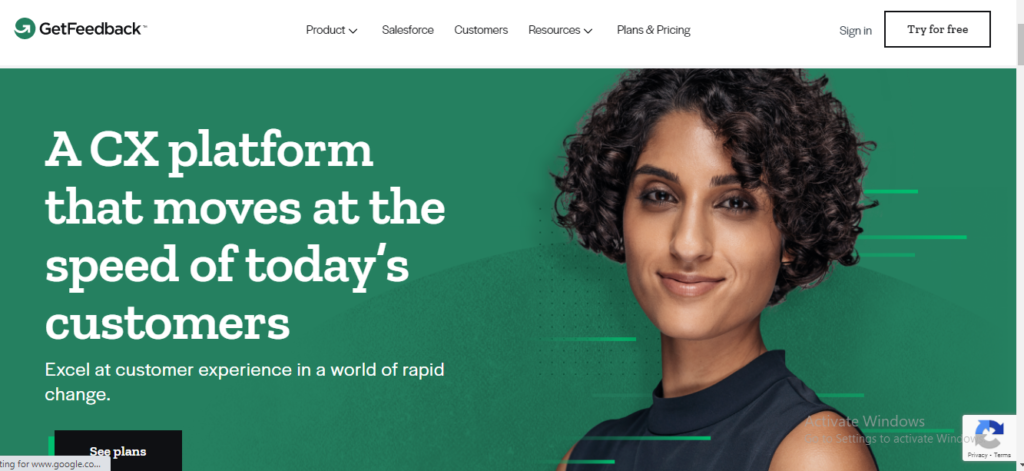 Getfeedback attracted the attention of our expert team as one of the most creative and customizable survey apps. Developed for organizations, Getfeedback helps expand the reach and make feedback usable and has helped many users around the world understand the weaknesses of their operations. The non-traditional side of this system is that it allows you to collect data from several communication channels, including the possibility to ask respondents to describe your service verbally.
Another reason that makes us believe Getfeedback is more than a traditional tool is the effect its friendly design has on respondents. As customers confirm, it is one of the few systems where respondents actually enjoy answering, and that's all because of the personalized approach that makes them feel important. Some of the unique features of this system include multi-lingual surveys, multimedia support, real-time results and analytics, and integration to literally all email service providers. Pricing is also flexible, as you can get a full package for as much as $35 per month.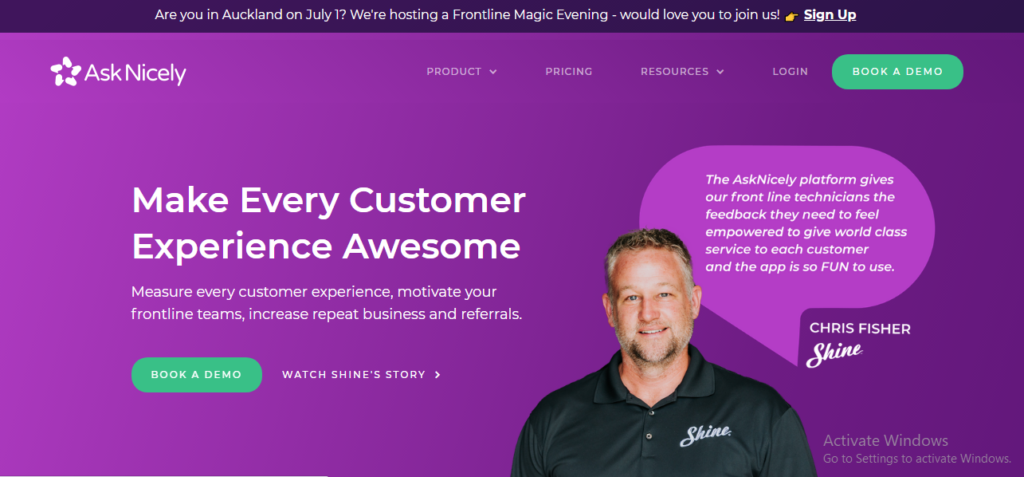 AskNicely is another smart feedback and reviews alternative, especially if you consider the many CRM integrations that automate data collection. The tool uses a net promoter score to evaluate results and catch downfall issues in real-time, and will also be there to help you export reports to third-party systems.
Our experts liked the most about AskNicely: survey scheduling and report alerts, which both make sure data arrives in the system neatly and in time. Instead of analyzing surveys the traditional way, AskNicely asks customers for comments and testimonials and enables daily NLP monitoring to collect data even when you didn't command it to. Thanks to the fact you can also segment and categorize employees and products, AskNicely will be on your side to evaluate the health of your business.

The platform enables daily NPS monitoring and gathers information even when not required to. In such a way, it shows customers that your work is really inspired by them, and it provides you access to accurate data at any point in time. You can improve your reporting capacity by using the platform's dashboard to alert both CEOs and agents when a weekly report is completed and share the Geck board, Klipfolio, or Salesforce scores.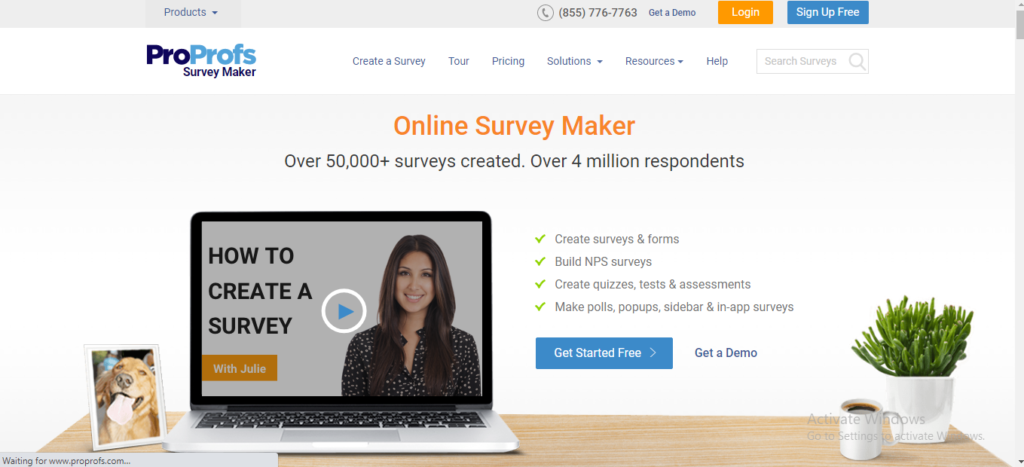 ProProfs Survey Maker is an online survey software designed for quick and easy data gathering on customer feedback, coarse effectiveness, market research, and other activities. With the software, reaching out to a wide number of audiences is easy, as users can deploy their branded surveys and questionnaires through social media platforms, email, and blogs, among others. Information from your respondents can be accessed instantaneously, and you can take advantage of real-time reports to quickly analyze your data.
With ProProfs Survey Maker, analyzing reports is a breeze thanks to its capability to let users create various types of scored questionnaires. This is easily done by assigning a default rating to certain types of answers. ProProfs Survey Maker also allows users to create private survey notes, embed surveys on their website, customize surveys to fit their branding, add videos and images, and much more.

The intuitive online survey software helps users easily reach out to people by allowing them to share surveys and questionnaires in various ways—share surveys on Facebook, Twitter, and other social media sites; send them via email and publish on websites and blogs. After users deliver their surveys, ProProfs Survey Maker provides them with the ability to track how respondents are answering their surveys. They will obtain information about their respondents instantly and access detailed survey reports in real-time. With such excellent survey reporting and analytics, they can gain insights into the responses and choices of survey takers.
Survicate is a quote-priced survey application known for successfully depicting customer trends, which is why some of the larger corporations in the world refer to it for services other than traditional research. What you will like the most about it are the attractive website widgets customers will definitely not miss.
From an expert point of view, this system should be given credit mostly for its capacity to independently identify factors that improve lead conversion and do so incredibly easily. It certainly has one of the simplest and most visually appealing interfaces and responds equally well on all devices and operating systems. Integrations are also outstanding, as this system works seamlessly with Pipedrive, HubSpot, Google Analytics, and many other popular services.
Survicate brings a lot to the table, especially when gathering consumer feedback and analyzing them for actionable insights. Here are some benefits Survicate offers its users:
A vast host of features that allows users to launch accurately targeted surveys and identify factors that improve lead conversion and result in better sales.
Powerful integrations with leading business systems and marketing automation platforms.
Fast and easy installation. The entire process requires as little as 2 minutes to complete. Just paste the JavaScript to your website and then launch endless surveys.
Widgets are highly optimized for mobile devices.